October 29, conference presentation at the international conference Recent Advances in Digital Humanities, Bucharest
On 29 October 2021 the first Romanian conference in the field of digital humanities took place (main organizer: University of Bucharest), titled: The First International Conference on Recent Advances in Digital Humanities. Our DACRE team was represented by Ana-Maria Bucur, Mădălina Chitez, Valentina Mureșan and Roxana Rogobete, who presented the paper titled Writing in English in scientific journals: an automated linguistic assessment model, in the section called "Resources and Digitalization".
Abstract:
The present paper explores a collection of academic papers included in EXPRES (Corpus of Expert Writing in Romanian and English), a corpus compiled at West University of Timisoara within the DACRE project (Discipline-specific expert academic writing in Romanian and English: corpus-based contrastive analysis models). The study compares the linguistic level between two categories of Romanian scientific journals, according to their international indexing: higher visibility journals (ISI/Web of Science, EBSCO, SCOPUS, ERIHPLUS) and journals present in less prestigious IDBs, search engines and citation databases (assumed to have a lower visibility). The EXPRES expert writing corpus contains peer-reviewed research articles (RAs) written between 2017 and 2021 in several disciplines: Linguistics, Information Technology, Political Sciences and Economics. The comparison of the two categories of journals is performed using readability measurements (e.g. Flesch Reading Ease, New Dale-Chall Readability Formula) and lexical and syntactic complexity analyses. If other studies examine changes in readability scores over the years, in various disciplines [1], this paper analyses the differences in the linguistic level depending on the journal's international indexing. We also aim to scrutinize the linguistic complexity of the collected data and its connection to text comprehension. The results of the study indicate significant distinctions between field-specific writing at linguistic level, in the two journal indexing groups. Through this contribution, we are interested in evaluating the linguistic profile of the Romanian academic expert writing in English as lingua franca. The conclusions of the paper intend to provide research supported evidence that can be integrated into discipline-specific academic writing recommendations for improvement, thus facilitating the access to scientific knowledge to a wider audience.
Excerpts from the presentation and images from the conference: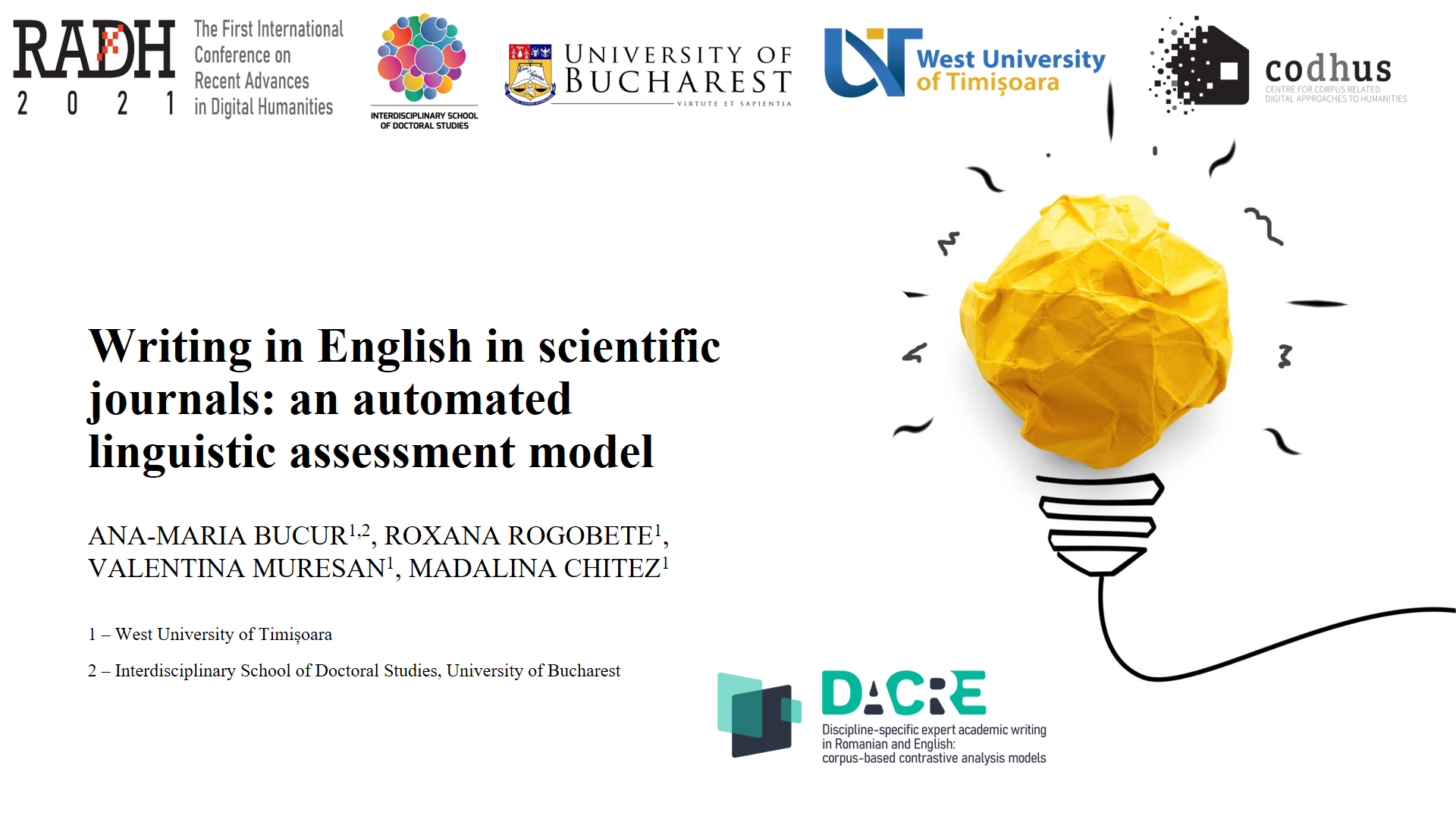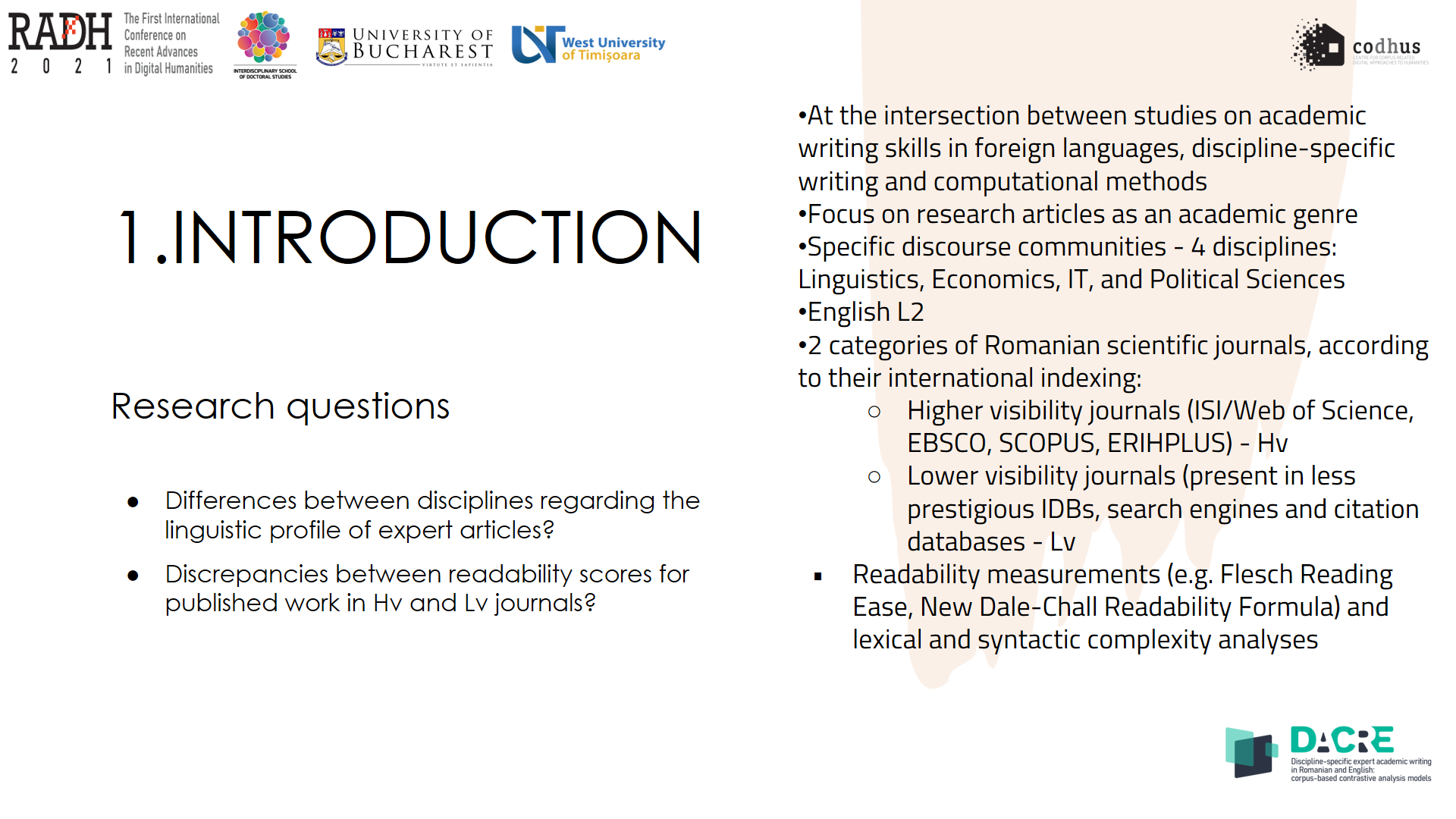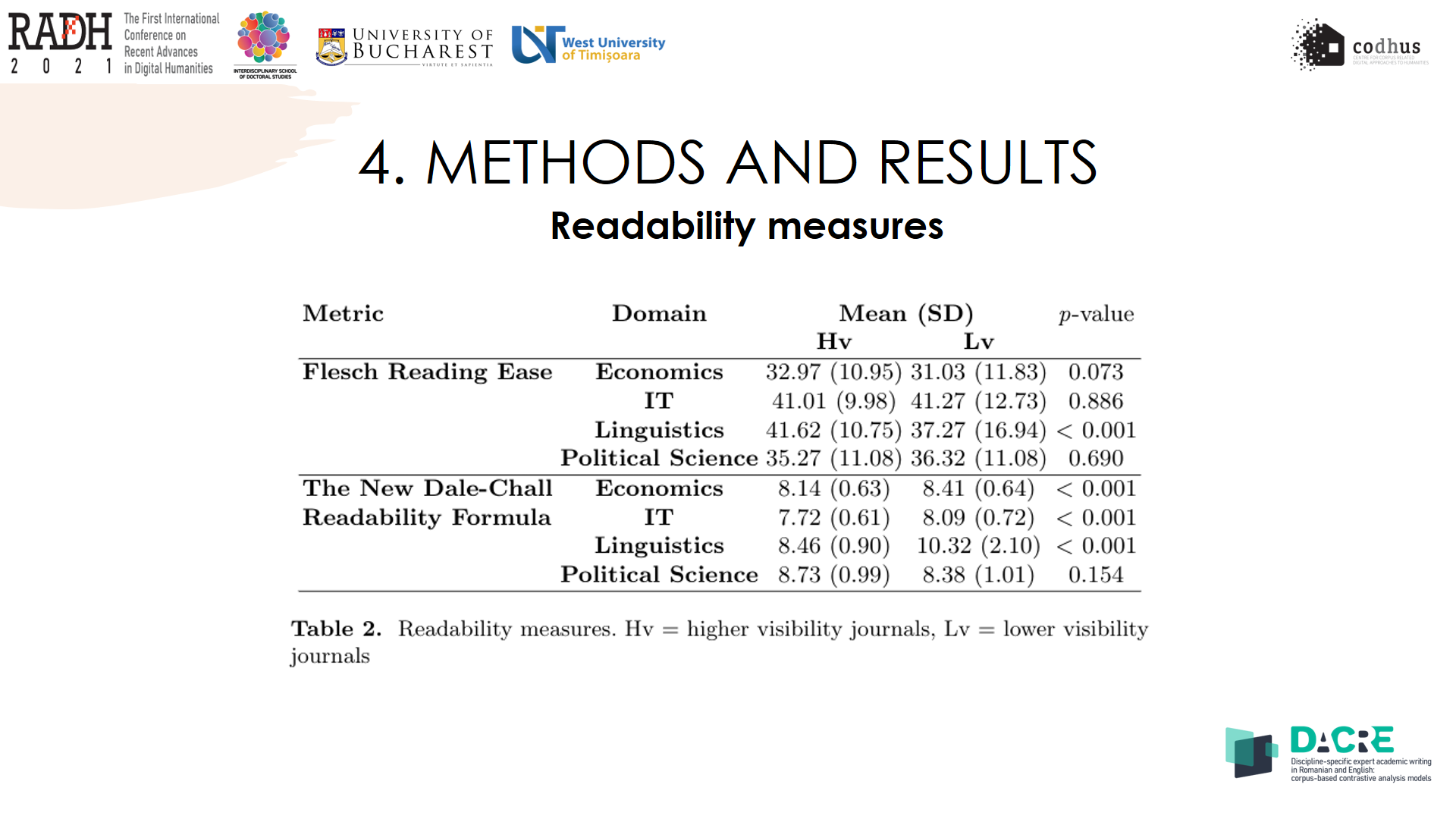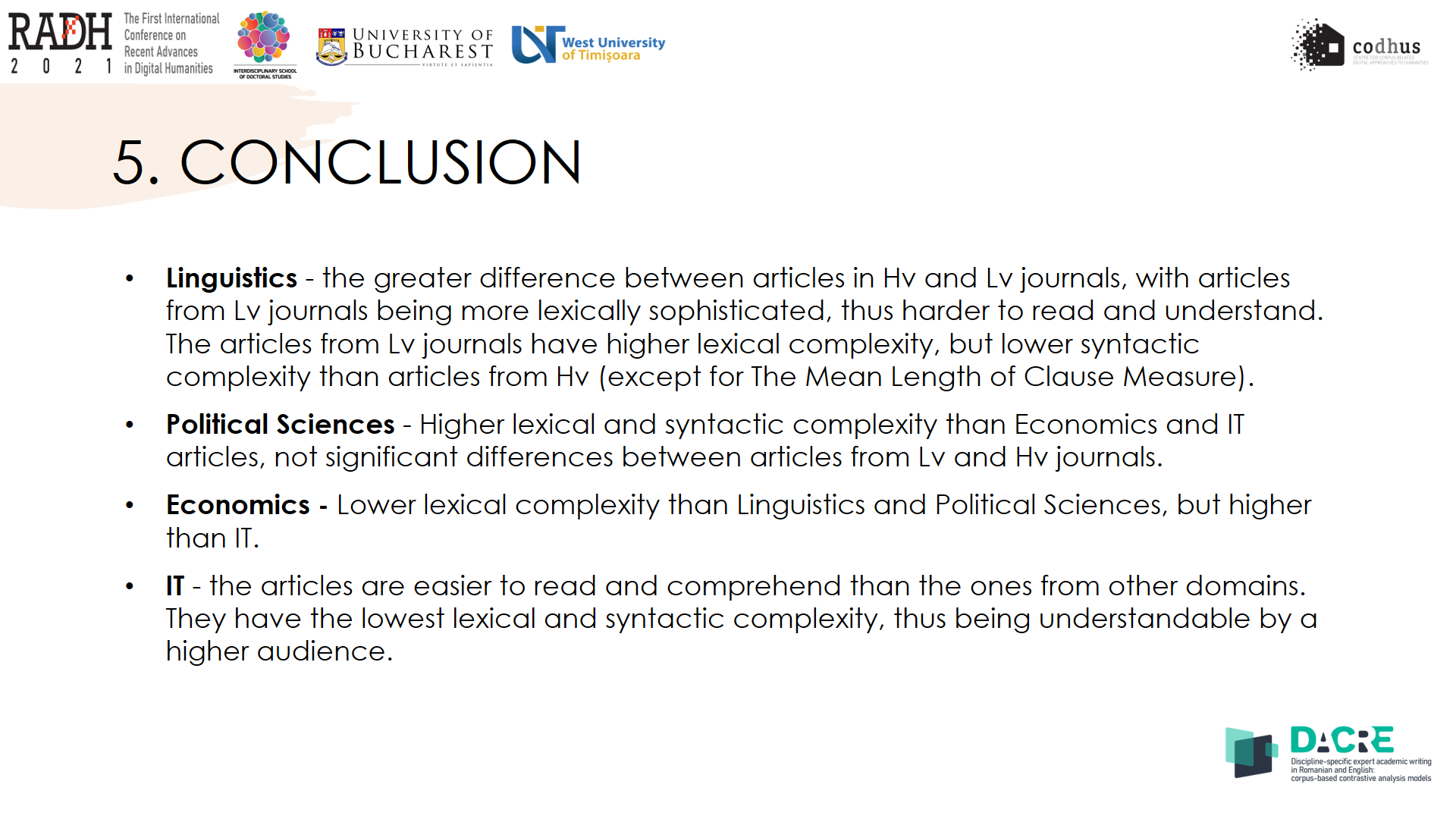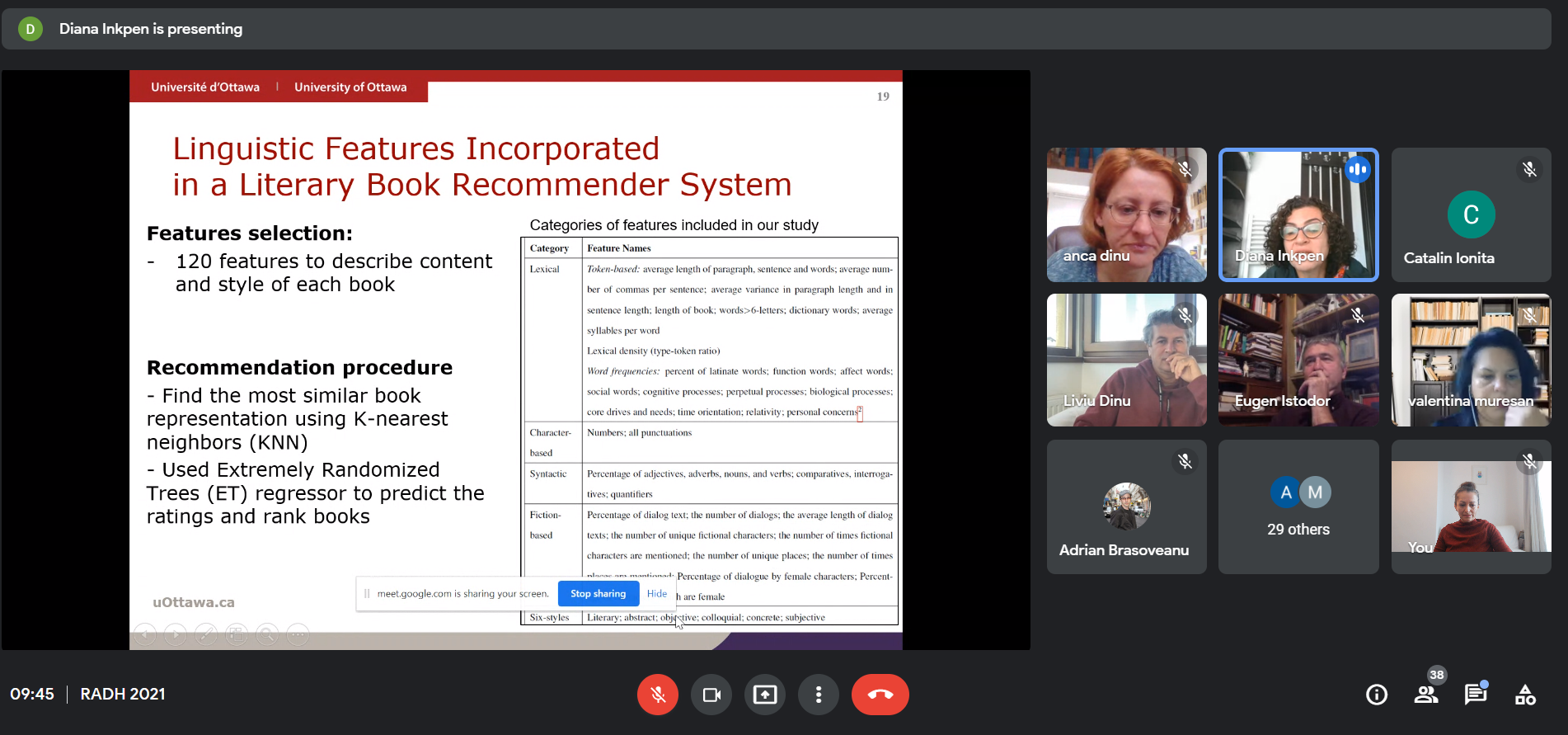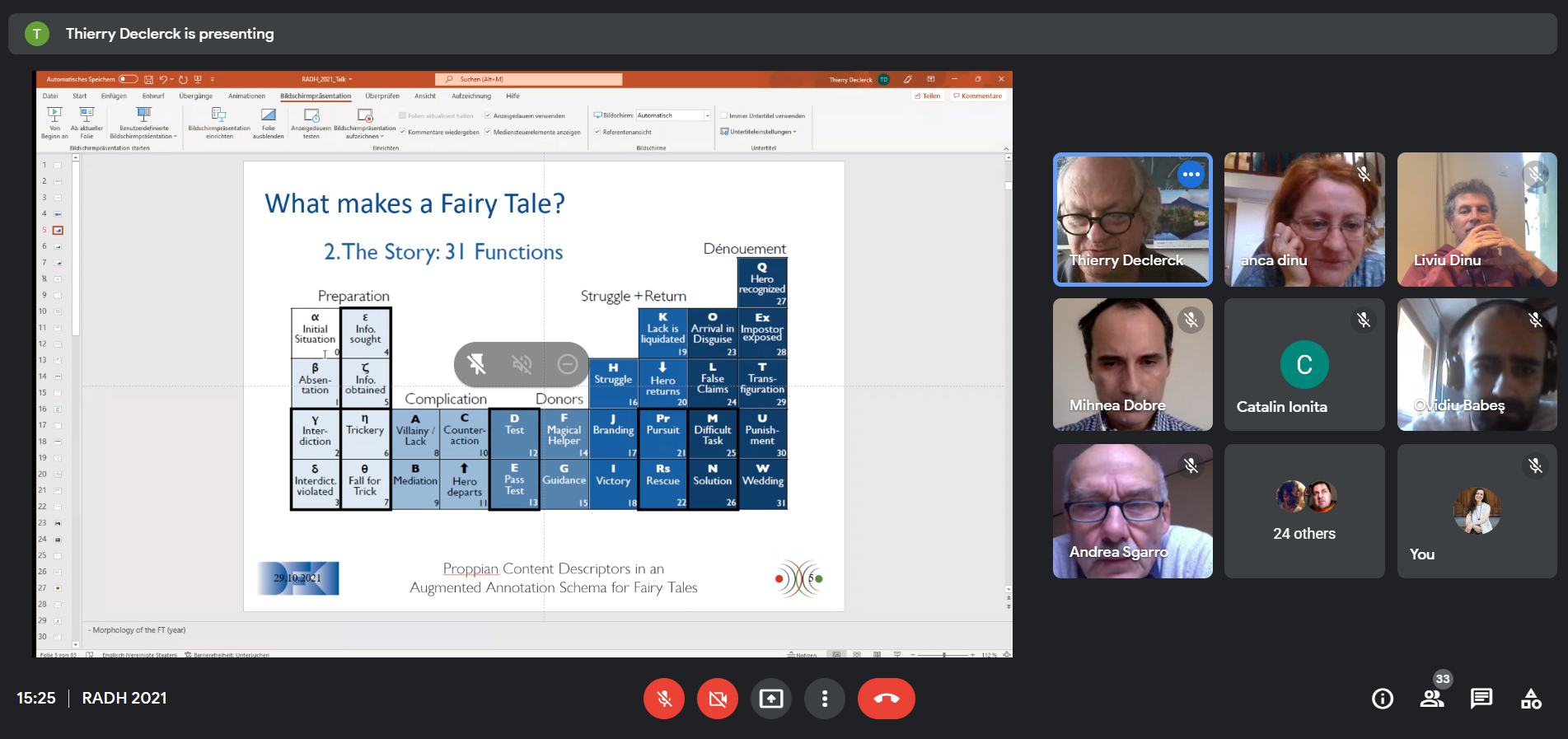 More about the conference here: https://radh.unibuc.ro/.
The Book of Abstracts can be accessed here: https://radh.unibuc.ro/wp-content/uploads/2021/10/BoA-design_V2.pdf.
The Conference was supported by the Programme Committee members, including the DACRE project director, dr. habil. Mădălina Chitez. The Book of Abstracts was elaborated together with members of CODHUS (https://codhus.projects.uvt.ro/): Mădălina Chitez, Raluca-Andreea Petruș, Cristina Oneț, Mirabela Grama, Roxana Rogobete.